From
Regular price
£19.95 GBP
Regular price
Sale price
£19.95 GBP
Unit price
per
Sale
Sold out
Give your mattress a long and happy life with our mattress protector. The soft, naturally hypoallergenic and antimicrobial bamboo fabric protects you from dust mites and bacteria. And the ultra-thin, completely waterproof layer of Nano TPU™ shields your mattress from accidental spillages and moisture. The lightest, most refined combination, that's perfectly silent. You won't even know it's there.
We highly recommend measuring your bed before ordering to ensure you're ordering the correct size.
70% bamboo
30% cotton
100% waterproof
The Panda mattress protector is luxuriously soft and made from silky smooth bamboo. It's also completely waterproof, with an ultra-thin Nano TPU™ surface material that's as lightweight as can be. The result is a fabric that feels soft and natural, yet it will shield your mattress from all moisture. And it won't make any noise when you sleep on it.
With an added an extra-deep, stretchable skirt of 32cm (excluding cots) it'll fit snugly over your mattress.
Bamboo
The bamboo is sustainably grown in managed forests, meeting the highest social and environmental standards. Bamboo is a wonder-plant that grows up to three feet a day, providing high yields per acre, saving land. It requires a third less water than cotton to thrive and doesn't need pesticides, fertilisers or chemicals.
We love bamboo because it's naturally antibacterial and inhospitable to micro-organisms and parasites such as dust mites and bed bugs. It also has hypoallergenic properties, so it will gently protect against skin irritation. It's the most natural choice for anyone that suffers from eczema or allergies. And the most sustainable choice for anyone that loves the planet.
Temperature regulating
Whether you're a 'hot' or 'cold' sleeper, bamboo will insulate you in winter and keep you cool in summer. It's nature's climate control wonder material, working with your skin to keep you sleeping at just the right temperature, whatever your internal heat setting.
Nano TPU™
A mattress protector that isn't waterproof doesn't really protect. But most waterproof mattress protectors feel thick and rubbery, making a noise every time you move. So, using nanotechnology, we developed an ultra-thin, silent, aerosol-free, non-toxic, biodegradable, waterproof layer and called it Nano TPU™. This is our secret weapon against accidental spillages, hidden beneath our naturally soft bamboo upper layer.
Nano TPU™ is super-durable and you can wash it as many times as you like. It's also recyclable and biodegradable in soil.
Eco-friendly, socially friendly
Panda make sure of their bamboo's eco-credentials by only sourcing from approved forests and have a hands-on approach to managing every part of our supply chain, from forest to front door. They insist on the highest standards of social care for their people and the communities they operate in.
✓ Ethically sourced from organic bamboo
✓ Grown pesticide free
✓ Vegan-friendly
✓ Delivered in recycled and recyclable box, with a re-usable bamboo bag for life
Every thread, button and dye within our products is regularly and rigorously tested to check there's no trace of harmful substances and certified to Standard 100 by OEKO-TEX®.
No harmful chemicals are used in the dying of our products
Materials
Top Primary Layer: 70% Bamboo 30% Cotton
Skirt: 100% Polyester
Inner Waterproof Layer: TPU
Care Instructions
Wash it low, hang it out, snuggle down!
The mattress protector is easy to care for, without hurting the planet
Wash at up to 50 degrees. We recommend using eco-friendly detergents, and avoiding bleach.
Hang dry (which is best for the fabric and the environment). But if you must, tumble dry at low temperature.
Bamboo gets softer wash after wash, no need for fabric softener.
Do not iron.
 Dimensions
Bed Size

Measurement

Cot
60 x 120 x 15 cm
Cot Bed
70 x 140 x 15 cm
Single
90 x 190 x 32 cm
Long Single
90 x 200 x 32 cm
Small Double
120 x 190 x 32 cm
Double
135 x 190 x 32 cm
King
150 x 200 x 32 cm
Super King
180 x 200 x 32 cm
Euro King
160 x 200 x 32 cm
Share
Dimensions

Cot 60 x 120 x 15 cm
Cot Bed 70 x 140 x 15 cm
Single 90 x 190 x 32 cm
Long Single 90 x 200 x 32 cm
Small Double 120 x 190 x 32 cm
Double 135 x 190 x 32 cm
King 150 x 200 x 32 cm
Euro King 160 x 200 x 32 cm
Super King 180 x 200 x 32 cm
Product Specifications

Top Primary Layer: 70% Bamboo 30% Cotton
Skirt: 100% Polyester
Inner Waterproof Layer: TPU
View full details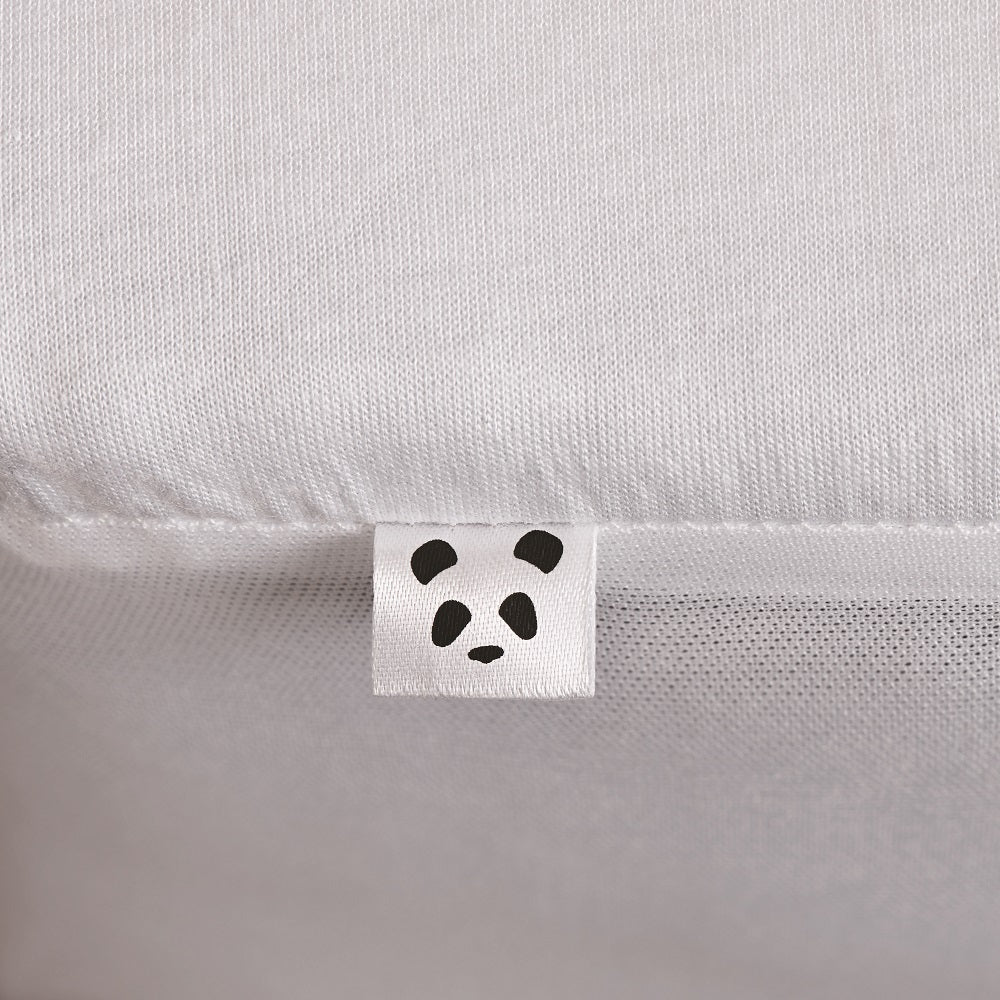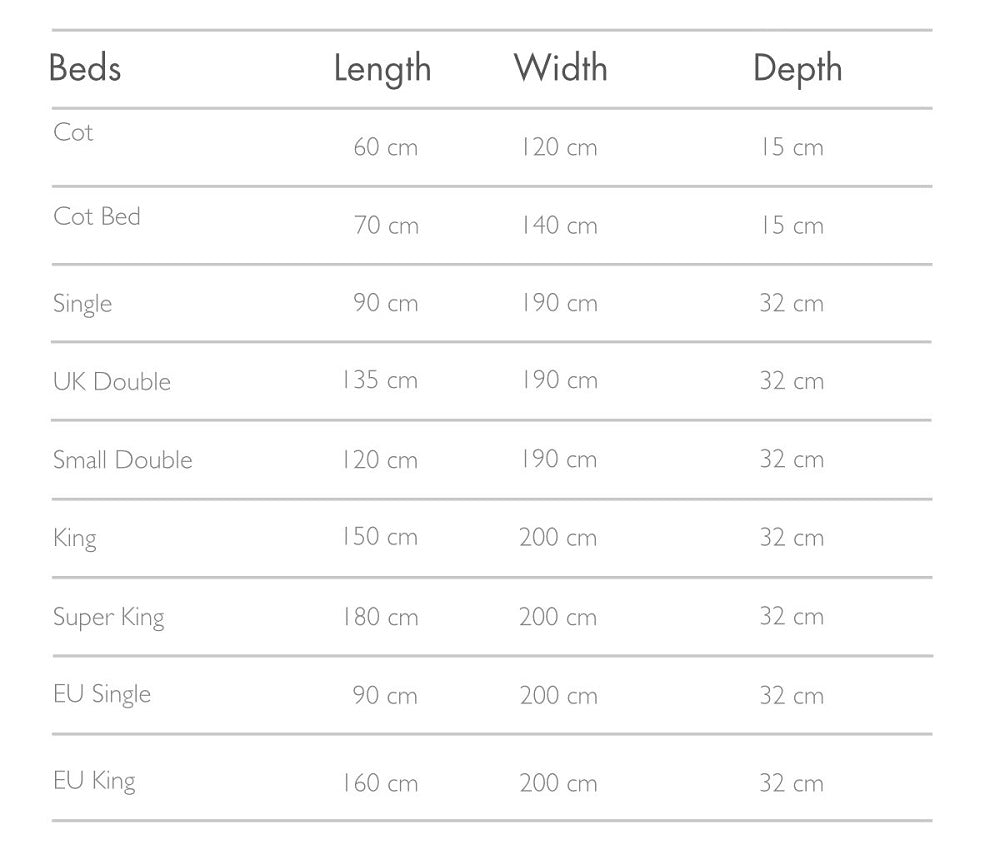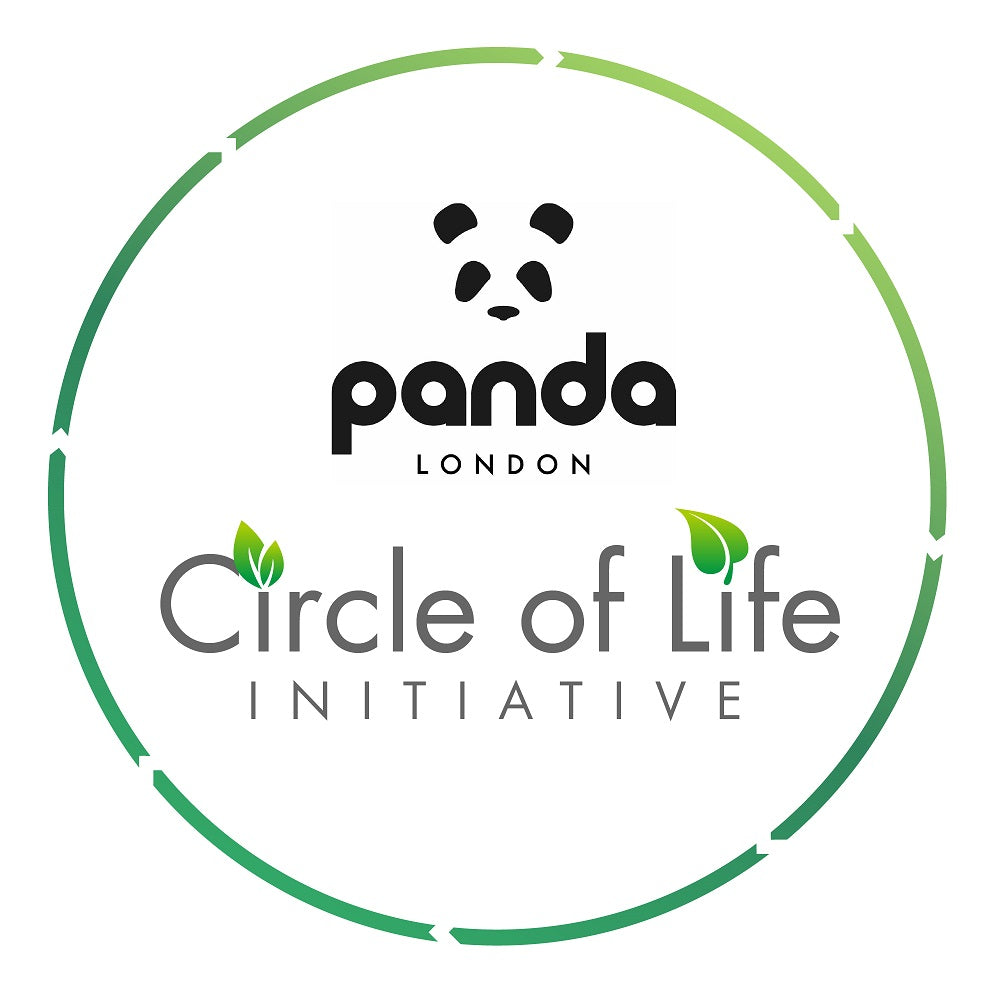 Handcrafted In Devon

Fast Free Delivery

Over 30 Years Experience

1 Year Manufacturer Guarantee

Free Sampling

Chemical Free