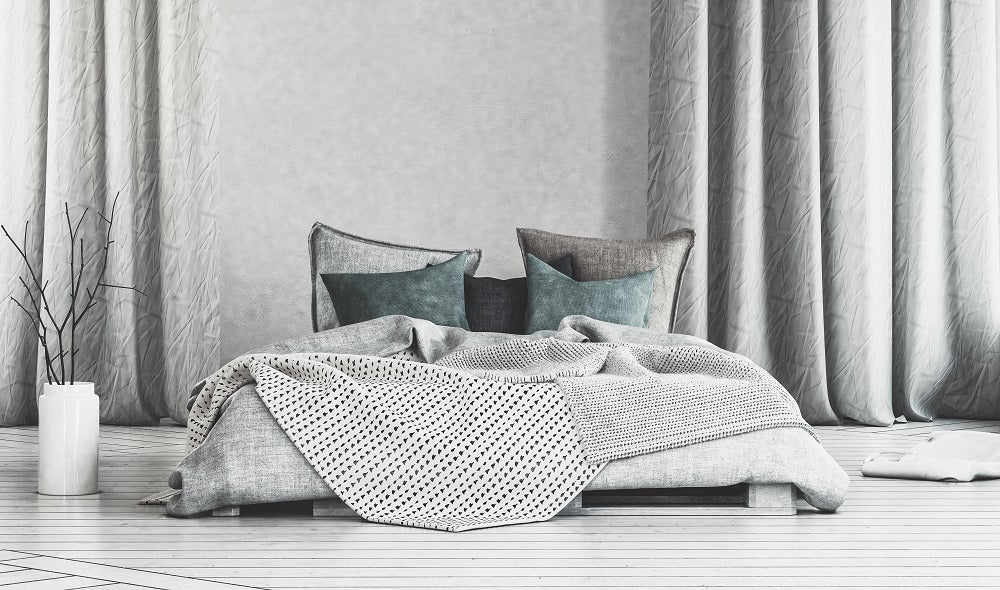 Natural Futon Mattresses
Futomats bought to you by Cottonsafe® Natural Mattress
When it comes to developing luxuriously comfortable Futon style bed mattresses it's all about the layering. The order in which we stack our carefully sourced fibres, dictates the firmness of the mattress.
Naturally fire retardant and 100% chemical-free, with our Cottonsafe® quilted mattress cover and a choice of luxury fillings, this is the recipe for the perfect safe nights' sleep for the whole family!
By using our signature Cottonsafe® quilted mattress cover, made with the best organic cotton and natural wool, you can have the ideal and naturally safe futon mattress.
Our organic cotton has no chemical treatment in the growing or processing, avoiding any pesticides, insecticides or chemical dyes, all of which off-gas and have been found to be detrimental to the environment as well as human and animal life.
We have developed this unique blend of natural fibres which have been woven here in the UK at a leading British cotton mill.
Our natural futon mattresses are completely safe and tested by a UKAS certified independent testing house to conform to UK fire regulations.
Cottonsafe® is our own trademarked fabric which is naturally fire-retardant with no man-made fibres and no add on treatments, coatings or chemicals on the inside fillings or on the outer cover of the mattress.
Our Futomats contain no toxic chemicals that can be inhaled or absorbed, they are 100% recyclable and Stockholm Agreement Compliant (which means they don't off gas), safer for you and the environment.
Each mattress is handmade to order, quality assured by our craftsmen and tufted for perfect results.
Our natural Futomat mattresses are around 6 inches deep and have the same luxury fillings as our futon mattresses, covered in a Cottonsafe® quilted mattress cover we use felt tufts instead of buttons.
Designed for bed use only, our Futomat mattresses are a good alternative for customers looking for a firmer, more traditional Japanese style bed mattress.
Our Futomats will feel significantly different to that of a traditional bed mattress. Like a futon the body will sink into a Futomat rather than lie on top, the layers will settle over time making the fillings firmer. For advice about caring for a Natural Futomat Mattress head on over to our care guides.
Our Pocket Sprung futon mattress has the softest feel and is most like a normal bed mattress. The Latex has a spongy feel which provides a medium support. The TradLux is the most traditional futon filling with a mainly cotton filling and has a firm feel. The Cocoloc is our firmest Futomat with a layers of coir fibre coconut matting inside.
For more advice about chemical free futon mattresses contact us.
If you are unsure which Futomat would be best for you, take our ...
From

Regular price

£515.00 GBP

Regular price

Sale price

£515.00 GBP

Unit price

per

From

Regular price

£450.00 GBP

Regular price

Sale price

£450.00 GBP

Unit price

per

From

Regular price

£471.00 GBP

Regular price

Sale price

£471.00 GBP

Unit price

per