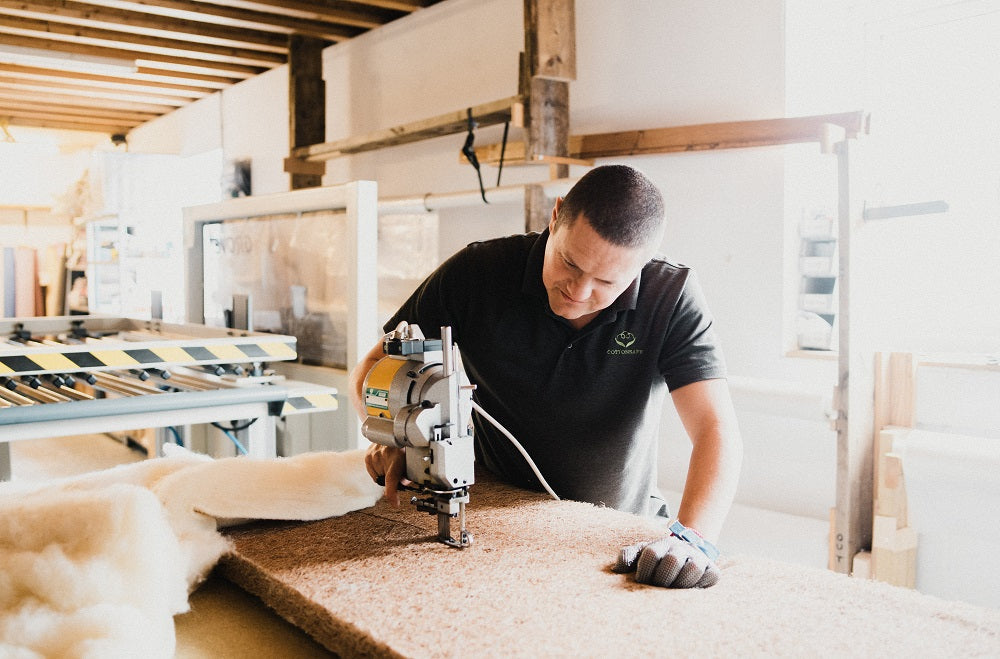 Cottonsafe®
Fire Retardant Chemical Free
What is Cottonsafe®?
In 1988 the British Government introduced legislation that required all sofas and mattresses to be chemically treated with Fire Retardant Chemicals to meet new fire safety standards.
Now we completely agree that people's homes should be safe, but we had very significant concerns about the health impact of medically untested chemicals used as flame retardants.
Our suspicions weren't to be downplayed and since the introduction of chemical fire retardants many have been banned (like Boric Acid - an insecticide) because they have been found to be toxic, but as one FR chemical is banned it is replaced by another untested alternative.
So, what did we do about it?
With the help of a cotton-mill in the North of England, we looked at different weaves and materials that could be used safely without the use of chemical fire retardants.
We were keen to work with natural fibres because the huge advantages they bring to a person's sleeping environment, and their biodegradable qualities helping to reduce our carbon footprint. And after a lot of blood, sweat and tears we developed the very first textile mattress cover which was NATURALLY fire retardant and met all the latest legislation and standards.
Our clever Cottonsafe® fabric is 100% natural, 100% biodegradable and 100% sustainable. With absolutely NO chemicals, so completely safe for your families' health.
Cottonsafe® has the look, versatility and feel of organic cotton with the natural advantages of wool.
Wool is naturally moisture wicking which dramatically increases the breathability of the fabric allowing good ventilation. This keeps the fibre warm in the winter and cool in the summer. The increased ventilation also reduces the growth of bacteria and therefore reduces odour.
Our sister company, Cottonsafe® Natural Mattress is a Licensee of the British Wool Marketing Board who are raising awareness among consumers about the unique benefits offered by the fibre.
The anti-static and dust free properties of this combination of natural materials also help increase its hypoallergenic properties allowing for a natural night's sleep.
You can upgrade your futon
mattress to be covered in our completely natural, completely chemical free Cottonsafe®
fabric. Alternatively, our natural bed mattresses (Futomats) are
all covered in Cottonsafe® as standard.
10 reasons to love Cottonsafe®
Cottonsafe® is 100% natural, 100% biodegradable and 100% sustainable.
Cottonsafe® is a unique patented method of blending organic cotton and pure wool.
Absolutely NO chemicals, so completely safe for your families' health (and your pets).
Unlike chemically treated alternatives, Cottonsafe® has fire safety woven in and surpasses ALL the UKs stringent Furniture Fire Regulations naturally.
Made in the UK using highly skilled British weavers, Cottonsafe® combines the natural fire retardancy of wool with the soft to the touch & feel of cotton.
It has the natural and warm properties of wool but the perfect absorbency of cotton to keep you cool. Cottonsafe® is hard wearing and long lasting.
Cottonsafe® is breathable and creates the perfect chemical-free environment for a good nights' sleep.
Cottonsafe® is environmentally friendly - the organic cotton uses less pesticides and is less water intensive. And it can safely be disposed of or recycled at the end of the products' life.
The Cottonsafe® fabric is fire retardant for the whole of its lifetime. Research has proved that, in a fire, it dramatically reduces toxic fumes and smoke, so keeping your family safe.
Pure, Completely Natural and Safe - Cottonsafe®.