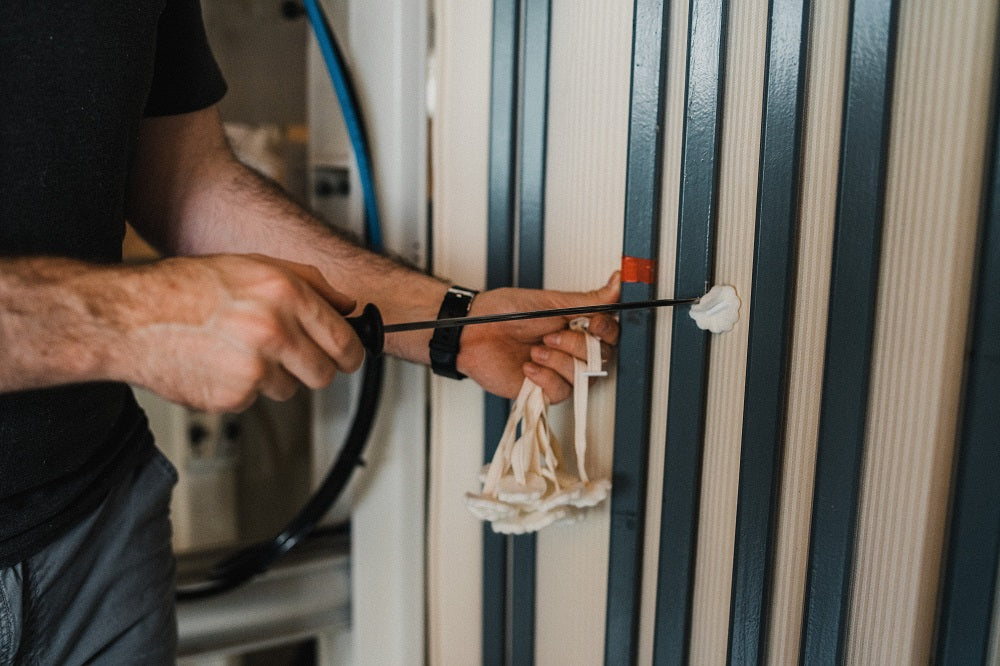 Terms of purchase
Online purchases made with Cambridge Futons take place in a safe environment using the latest security technology to protect all our customers.
We accept credit and debit card transactions for Maestro, Delta, Visa, Mastercard, AMEX and Solo.
On completion of the credit card transaction a confirmation screen will display with a unique reference, our system will automatically send an email confirmation to the user's email address.
An order receipt email will be sent once payment has been taken and you will be alerted by email when the goods have been despatched from our workshop.
All items purchased remain the property of Cambridge Futons until payment has been received in full.
Criminal activity will be reported to the police, including credit card fraud.
No contract shall be in place until Cambridge Futons either expressly gives notice of its acceptance to the purchaser, or impliedly by fulfilling an order in whole or in part.
This policy does not affect your statutory rights.
Credit Card Security
Cambridge Futons encrypts all credit and debit card information to ensure transactions are private and protected whilst users are online with us.
We only accept browsers that permit communication through Secure Socket Layer (SSL) technology, users cannot inadvertently place an order through an insecure connection.
If for any reason you are worried about making an online purchase please contact us on 01395 239832 and we will be happy to take an order over the phone.
Tax Charges
Prices include VAT at the prevailing rate of 20%.
All prices and product details are accurate at the time of entry.
We reserve the right to amend prices at any time and without notice.
Back Orders
If your item is out of stock at the time of order, we will put the item on back order. You will be emailed with the option to cancel your order if you would rather not wait.
Fabrics and Sampling
The images we provide of the fabrics online should be used for reference only.
We highly recommend requesting fabric swatches before you order to see the colours in the light of your home, particularly as there may be colour variation on your screen and these images should be used as a guide only.
You can access our free fabric sampling service via our fabrics page.
Product Size Tolerance
We have tried to give you the most accurate information about the dimensions of our products but due to the handmade nature of the products, all measurements are approximate to +/- 2cm.
Returns & Exchanges
Cambridge Futons hope that you are happy with your purchase. Should you wish to return, refund or exchange an item, providing it has not been used, it is in its original packaging and in a re-saleable condition, we will be happy to do this for you.
Where products are not faulty it is your responsibility to arrange the return of any products at your own cost.
Please send returns within 14 days of delivery to:

Cambridge Futons, Unit 15, Woodbury Business Park, Woodbury, Devon, EX5 1AY
Please provide by email a proof of postage to sales@cambridgefutons.com
Please include a note with your name, contact number, order number and reason for returning the item and whether you want a refund or a replacement.
We reserve the right to refuse the return if the returns criteria are not met. Upon receipt of the goods we will issue a full refund of the amount paid or an exchange credit as required.
If returned goods are damaged by a courier arranged by the Customer we will be unable to make a full refund.
If you would like Cambridge Futons to arrange the return of larger items, please contact sales@cambridgefutons.com. Cost of delivery and return carriage will be charged at £60 per item deducted from the refund amount.
Please note delivery and collection charges will not be refunded. 
Bespoke and made to measure items may not be returned. 
Please call us on 01395 239832 if you have any questions.
For hygiene reasons, the law is strict about returning products used as a mattress.
Futon mattresses and Futomats can be tried as they would be in a showroom but cannot be slept on. Once it has been slept on it cannot be returned.
This policy does not affect your statutory rights.
Cancellations
Orders cannot be cancelled once a delivery date has been arranged.
Cancellations before this time can be done at no cost.
Please use the form at the bottom of this page to initiate any cancellation.
Guarantee
Cambridge Futons is committed to delivering quality products in the fastest time possible. If for any reason, you are not happy with the goods you have ordered, or you wish to exchange any items, please return them to us within 14 days.
Warranty
Any goods manufactured by Cambridge Futons will carry a 1 year manufacturer's warranty from the date of delivery against defective workmanship and/or materials for residential use in a home environment. This excludes residential lettings or a contract environment. 
Any goods not manufactured by the company but provided on a supply basis to the customer
shall carry solely the original manufacturer's warranty.
Whilst accepting that the Customer may, under certain circumstances, be entitled to a refund of monies paid, the Company reserves the right to repair or replace Goods sold which prove within a reasonable period of time to be defective because of bad materials or workmanship in manufacture.
This warranty does not cover usual wear and tear that would reasonably be expected from a period of use, for example reasonable settlement of fibre fillings.
Neglect or misuse of products where reasonable care has not been taken is also excluded from this warranty, for example, scratches, scuffs, stains or mould.

Our warranty excludes any external or environmental factors that may have affected the goods, or accidental damage. This may include, but not limited to, unreasonable exposure to liquids, heat or sunlight.
Please retain your receipt or order confirmation email as proof of purchase. Should a fault develop within 12 months please contact us as soon as
possible at sales@cambridgefutons.com and we will be happy to assist you further.
The Company cannot guarantee furnishing fabrics and linens other than for reasonable wear and tear or against shade variations of items purchased at different times.
The company recognises its responsibilities under the Sale of Goods Act 1893 as amended and nothing in the company's terms of business shall affect those statutory rights. 
Futon Mattress & Futomat Delivery
All our futons and futomats are handmade to order in our Devon based workshop, so it does take a little bit longer to produce our items than other high-volume, machine made, off the shelf alternatives, but our super team of skilled craftspeople work really to get your order to you as soon as possible.
For UK Mainland and Scottish Highland deliveries of our futons and futomats, we use DX.
One of our friendly admin team will get in touch to book a delivery date with you at your earliest convenience.
Unfortunately, we cannot offer timed deliveries. Currently there is no live time tracking system for larger items with any UK carrier. 
Delivery of your futon mattress or Futomat will be between 08:30am and 6:00pm Monday to Friday.
Customers must be available to accept delivery.
Should the courier attempt delivery and you are out, or not answer, a second delivery charge of £30 will be made.
If the incorrect address is given when the order is placed, and not corrected before dispatch, a £15 re-routing charge will be made.
Deliveries are made to the entrance of your building or property. Please note, if you live in an apartment building or your property is not on the ground floor the courier will only deliver to the building entrance.
If for any reason you require assistance to bring your goods into your property, please contact us for a quote for two-man delivery to the room of your choice, prices vary between £35.00 - £50.00 depending on location, which must be paid in advance of delivery.
We can arrange for a Saturday delivery upon request, this comes at a charge of £36.00 which must be paid in advance of delivery. Saturday deliveries are before noon.
We cannot be held responsible if the delivery is delayed by the courier for reasons such as misrouting, weather, driver shortages, etc.
The goods must be checked thoroughly before a signature is given to the driver.
If there is in ANY DOUBT of the condition of the goods or packaging, you must sign as DAMAGED, do not sign as unchecked.
We cannot be held responsible for product or packaging that has been visibly damaged in transit and then signed for as received in "good condition" (any signature alone represents this).
Cambridge Futons will not accept damage claims for goods which have been signed for as "received in good condition".
Bedding and Futon Mattress Cover Delivery
For UK Mainland and Scottish Highland deliveries of our bedding, we use APC.
Smaller items are usually dispatched within 48 working hours from order, once your order has been dispatched you will receive a text message from APC providing you with a 2 – 3 hour window on the morning of your delivery.
Super King Futomat Delivery
Our Super King Futomats will be delivered within 2 –4 weeks of order.
Our super king Futomats ordered for delivery to the UK Mainland and Scottish Highlands are delivered by BJS, a national delivery service, two-man team to the room of your choice.
Once your item has been dispatched from our workshop you will receive an email or text message offering the opportunity to book in a date for delivery. The night before your delivery you will receive a 3-hour time slot for the day of delivery. 
If you have any questions regarding delivery, please don't hesitate to give us a call or drop us an email.
Intellectual Property Rights
Cottonsafe® is a Registered Trademark.
We are the owner or licensee of all intellectual property rights on our site, and in the material published on it. Those works are protected by copyright laws and treaties around the world. All such rights are reserved.
You may print off one copy and make download extracts, of any page from our site for your personal reference and you may draw the attention of others within your organisation to material posted on our site.
You must not modify the paper or digital copies of any materials you have printed off or downloaded in any way, and you must not use any illustrations, photographs, video or audio sequences or any graphics separately from any accompanying text.
Our status (and that of any identified contributors) as the authors of material on our site must always be acknowledged.
You must not use any part of the materials on our site for commercial purposes without obtaining a licence to do so from us.
If you print off, copy or download any part of our site in breach of these terms of use, your right to
use our site will cease immediately and you must, at our option, return or destroy any copies of the materials you have made.
Visitor Material and Conduct 
Other than personally identifiable information, which is covered under the Privacy Policy, any material you transmit or post to this Website will be considered non-confidential and non-proprietary. We will have no obligations with respect to such material. We and our nominees will be free to copy, disclose, distribute, incorporate and otherwise use such material and all data, images, sounds, text and other things embodied therein for any and all commercial or non-commercial purposes.
You are prohibited from posting or transmitting to or from this Website any material:
(a) that is threatening, defamatory, obscene, indecent, seditious, offensive, pornographic, abusive, liable to incite racial hatred, discriminatory, menacing, scandalous, inflammatory, blasphemous, in breach of
confidence, in breach of privacy or which may cause annoyance or inconvenience;

(b) for which you have not obtained all necessary licenses and/or approvals;

(c) which constitutes or encourages conduct that would be considered a criminal offence, give rise to civil liability, or otherwise be contrary to the law of or infringe the rights of any third party, in the UK or any other country in the world;
or (d) which is technically harmful (including, without limitation, computer viruses, logic bombs, Trojan horses, worms, harmful components, corrupted data or other malicious software or harmful data).
You may not misuse the Website (including, without limitation, by hacking).
We will fully co-operate with any law enforcement authorities or court order requesting or directing us to disclose the identity or locate anyone posting any material in breach of clauses any of these clauses.
Links To and From Other Websites
Links to third party websites on this Website are provided solely for your convenience. If you use these links, you leave this Website. We have not reviewed all of these third party websites and do not control and are not responsible for these websites or their content or availability. We therefore do not endorse or make any representations about them, or any material found there, or any results that may be obtained from using them. If you decide to access any of the third party websites linked to this Website, you do so entirely at your own risk. Use of any other website may be subject to terms and conditions applicable to such particular website.
If you would like to link to this Website, you may only do so on the basis that you link to, but do not replicate, the home page of this Website, and subject to the following conditions:
(a) you do not remove, distort or otherwise alter the size or appearance of the Cambridge Futons logo;

(b) you do not create a frame or any other browser or border environment around this Website;
(c) you do not in any way imply that we are endorsing any products or services other than our own;
(d) you do not misrepresent your relationship with us nor present any other false information about us;
(e) you do not otherwise use any Cambridge Futons trade marks displayed on this Website without our express written permission;
(f) you do not link from a website that is not owned by you;
and (g) your website does not contain content that is distasteful, offensive or controversial, infringes any intellectual property rights or other rights of any other person or otherwise does not comply with all applicable laws and regulations. We expressly reserve the right to revoke the right granted in this clause for breach of these terms and to take any action we deem appropriate.
You shall fully indemnify us for any loss or damage we may suffer or incur as a result of your breach of the clause as set out above .
Disclaimer
While we endeavour to ensure that information on our website is correct, we do not warrant the accuracy and completeness of the material on this website.
We may make changes to the material on this Website, or to the products and prices described in it, at any time without notice.
The material on this Website may be out of date, and we make no commitment to update such material.
The material on this Website is provided "as is" without any conditions, warranties or other terms of any kind. Accordingly, to the maximum extent permitted by law, we provide you with this Website on the basis that we exclude all representations, warranties, conditions and other terms (including, without limitation, the conditions implied by law of satisfactory quality, fitness for purpose and the use of reasonable care and skill) which but for these terms and conditions might have effect in relation to this Website.

Limitation of Liability
Cambridge Futons does not, and nothing in these terms and conditions shall act to exclude or limit Cambridge Futons liability for death or personal injury resulting from its negligence, fraud or any other liability which may not by applicable law be excluded or limited.
Subject to the sub-clause above, in no event shall Cambridge Futons be liable (whether for breach of contract, negligence or for any other reason) for any loss of profits, exemplary or special damages, loss of sales, loss of revenue, loss of goodwill, loss of any software or data, loss of bargain, loss of opportunity, loss of use of computer equipment, software or data, loss of or waste of management or
other staff time, or for any indirect, consequential or special loss, however arising.
Subject to the sub-clause above, Cambridge Futons is not liable for any action you may take as a result of relying on any information provided on the Site.
Information About Us
Cambridge Futons is a site operated by So4Bed Limited. We are a company registered in England and Wales under registration number 4863996.
Our registered office is c/o Prydis, Senate Court, Southernhay Gardens, Exeter, Devon EX1 1NT.
Our VAT number is 836898952.